How can we help your business get more clients, customers or patients?
That's the big question for any business that wants to grow.
We help businesses market more effectively, both online and offline. We help you connect with your most valuable prospects and future clients, and also help your current clients purchase more often and in larger amounts.   We work best with companies in the $1-$25 million revenue range, with a relatively high average purchase price and a high customer lifetime value.  We help companies across many industries, from healthcare to legal, products, services, luxury retail, technology and more.   We only work with one company per industry niche in a give geographic area, but we do incorporate proven best practices from multiple industries.  We are an Atlanta marketing company but we can work with clients just about anywhere.
Here are just a few of the ways we can help. For more, click on the Marketing Services tab on the menu above.
SEO (Search Engine Optimization)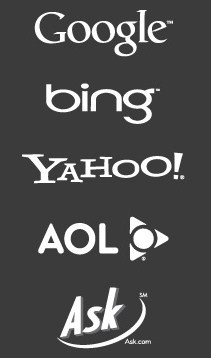 How do your prospective clients find you? Most consumers don't use that yellow book anymore. Where do you go first when you're looking to buy? Probably Google, Yahoo! or Bing. Your customers probably do the exact same thing. So if you're not showing up, you're losing business. We can help you.
Case Study: One client went from being practically invisible to getting thousands of new leads each month. Most of their website traffic came from searches for their company name. Now they get more new clients who were searching for the products they carry.
Local Search
This is more important than ever! You've probably seen more local business results on more and more searches on Google and others. Most of your competitors have no clue how to optimize this – so if you do it right, that equals more new leads and customers for your business.  To get to this page, for example, you might have searched for "Atlanta marketing company" or some other variation of that.  And you're here, reading this now, and hopefully we'll have a chance to talk and see whether we're a good fit to work together to help you attract more prospects and make your phone ring.  Call us at 404-669-6682 to find out.
Video Marketing and Video SEO


The search engines (and your prospective clients) LOVE video. Did you know that YouTube is now the world's second-largest search engine? If you're not maximizing Video Marketing, you're missing potential clients, no matter what your business. And it doesn't have to be ridiculously expensive – even low-cost but highly optimized videos, such as testimonials, product demonstrations, comic relief and more, can help your business get more website traffic, faster, so your customers find you.
Case study: W3 Group created a 34-second video slideshow, posted it to YouTube, and optimized every element of the video. SIX hours later, it was on Page One of Google for the key phrase we were targeting. Over three years later, it's still there (and at number one on Google) and still pulling in leads for our client. We've done this over and over again, with different types of videos. We've gotten to page one of Google in as fast as two minutes!
But that's just the tip of the iceberg. We can help you get more clients via Mobile Marketing, Online PR, Email marketing, Social Media marketing, Coupon site campaign management, Pay-Per-Click marketing, writing compelling copy for sales letters, web pages and more, even custom clickable online classified ads for Craigslist and other high-traffic websites. What we really do depends on what makes sense for YOUR business. SEO isn't right for everyone, nor is Pay-per-click.
We do what gets results. Online or offline – we don't take a one-size-fits-all approach. We do what works for YOU.
Some of the links in this website are "affiliate links." This means if you click on the link and purchase the item, we will receive an affiliate commission. Regardless, we only recommend products or services we believe will add value to our readers whether or not there is a material connection to the brands, products or services that we have mentioned.