Search Engine Optimization, or SEO, is the process of improving the visibility of a website or a web page in search engines in the "natural" or unpaid ("organic" or "algorithmic") search results. The logic behind that is that to get more visitors to a website, showing up at or near the top of search engines (such as Google, Yahoo! and Bing, among the hundreds of others) is a key component of an overall search marketing strategy.
So what is SEO? Watch this two-minute video for a brief overview.

Other forms of search engine marketing (SEM) target paid listings.  This is often referred to as Pay-Per-Click, or PPC for short.  Read more about PPC here.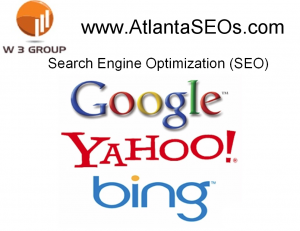 In general, the earlier (or higher on the page), and more frequently a site appears in the search results list, the more visitors it will receive from the search engines. SEO targets different kinds of searches, including image search, local search, video search and industry-specific vertical search engines.
As an Internet marketing strategy, SEO incorporates a solid understanding of how search engines work and what people search for. W3 Group uses specific tools to estimate what search terms people type in as well as how many searches a given term actually is searched on during a daily or monthly time period.  W3 Group takes this several steps further and helps clients get more actual customers by researching keywords and keyword phrases to determine what terms people are searching for when they are looking to buy, not just browse.  After all, you could have millions of website visitors per month, but if no one is buying, you're wasting your effort.   There are exceptions to this, of course, such as websites that attract visitors with the objective of a certain percentage of them clicking on advertisements on the site, for which the site owner is paid for each click.
Which online marketing strategies you end up using will depend largely on your business model and how you intend to monetize your website.  So SEO may or may not be the best method depending on this and other factors.  For most websites, however, SEO is a strong component of the overall marketing strategy.
Optimizing a website typically will involve editing its content, HTML and other coding to both increase its relevance to specific keywords and to remove barriers to the indexing activities of search engines. Promoting a site to increase the number of backlinks, or inbound links, is another SEO tactic.  Approximately 60% of SEO is link-building, so an ongoing strategy to continually increase the number and quality of links to a website is critical to success in Search Engine Optimization.  A positive side effect of link-building is an increase in website visitors from the pages linking to your website, so this is a win-win scenario where efforts to improve website traffic from one source (the search engines) also tends to increase traffic from other sources (referral traffic, or traffic from websites linking to your site).
The acronym "SEO" can refer to "search engine optimizers," a term adopted by an industry of consultants who carry out optimization projects on behalf of clients, and by employees who perform SEO services in-house. Search engine optimizers may offer SEO as a stand-alone service or as a part of a broader marketing campaign. Because effective SEO may require changes to the HTML source code of a site and site content, SEO tactics may be incorporated into website development and design. The term "search engine friendly" may be used to describe website designs, menus, content management systems, images, videos, shopping carts, and other elements that have been optimized for the purpose of search engine exposure.
A different class of techniques, known as "black hat" SEO or "spamdexing," uses frowned-upon methods such as link farms, keyword stuffing and article spinning that have a negative impact on both the relevance of search engine results and the quality of user experience with search engines. Search engines such as Google do look for sites that employ these techniques in order to remove them from their indices.  If your website is key to bringing in business for your company, one of the last things you want is to be removed from a search engine index.
W3 Group, LLC only uses and condones white hat (ethical) SEO tactics and Search Engine Optimization strategies.