Video Marketing – can you say, "Powerful?"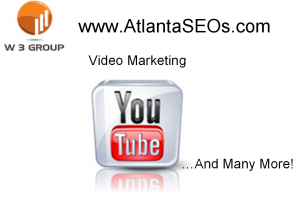 YouTube is now the world's second-largest search engine, and has been there for a while now.  It's not just for silly cat videos and music videos.
Real businesses are attracting real clients who spend real money via YouTube and other video marketing.
But this is key: Combine Video with SEO and you've got a fast way to get to the first page of the search engines.
And did I say "fast?" I did? Yep, just checking.  We've very frequently been able to get to Page One of Google within an hour or less, for specific keyword phrases. So far, our record is getting to page one of Google in only TWO minutes!
Now this doesn't work for every single phrase out there, but we have done it often enough and consistently enough to be able to say this honestly. In fact, as of this writing, 22 of our last 23 videos got to page one of Google for our target keywords in less than one hour.  The other took about 1 day…  Some search phrases are more competitive than others, so it can take a little longer. We focus on the search terms that have a "buying intent" so as to help you get the most bang for your buck. Marketing ROI is important.
Here's an example: Search Google for "Dunwoody Kitchens" and you'll see a simple video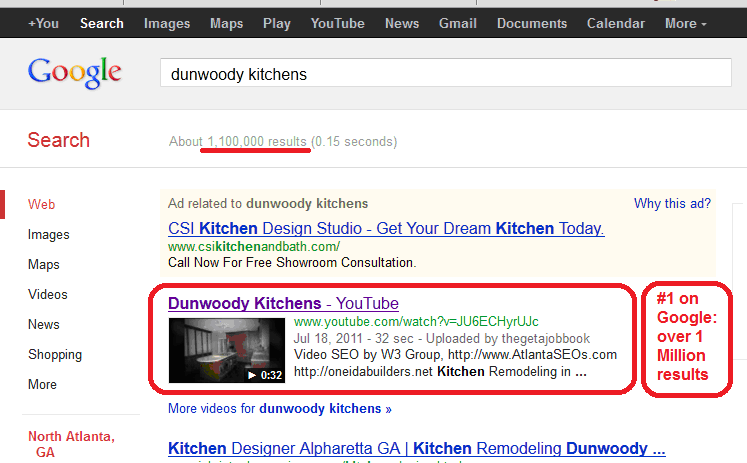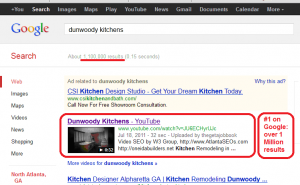 slideshow we did for a client that got to Page One on Google in just under six hours.  More importantly, it's still there almost three years later and  has over 3,000 views. Not bad for a local business!
Here's the video itself – a video slideshow with some cool animation, set to music, and prominently featuring their website URL and other contact info. It's a nice way to both get found in the first place and showcase some of their beautiful remodeling work.

So what sort of video makes sense for your business? That depends on your business.
All of our video marketing packages include optimizing the video for SEO to help you rank quickly and highly for a specific keyword phrase. This can help provide a quick boost for SEO as well as greater long-term reach.
Video Types:
1) Simple video slideshow (30-60 seconds or so) with cool transitions, music, text of your choice.
2) 30-Second Animated Video Intro / Outro
3) Testimonial Video: filming client testimonial, video editing, adding intro and outro
4) Product Demo Video: filming product demo, video editing, adding intro and outro
5) Company Introduction Video: Filming business owner and/or employee talking about the business, services, etc., video editing, adding intro and outro
6) Other – please let us know your ideas and we'll help you make them reality!
Base Video Packages (Video Types 3-5) Include:
– Up to 1 hour of filming (multiple takes if needed)
– Up to 2 hours of editing
– Optimizing video elements for the search engines to help it get found and viewed by your target audience.
– Uploading to your YouTube channel & optimizing YouTube options
Recommended Options:
1) Distribution Of Video To 20+ Video Sites (YouTube, Viddler, Vimeo, and more) – this saves you the time, effort, and energy of finding all these video sites, uploading your video, editing the description properly, and configuring the video settings properly for maximum exposure.
2) Boosting Your YouTube Video Views: we can get you hundreds or even thousands of views within a week or so. This is great for building social proof (when people see that more people have viewed the video, they are more likely to watch), additional opportunities to go viral, a higher chance of being featured on Trending Videos, and other benefits.
3) Embedding the video on your website: this can help you both increase engagement on your site, and keeps your visitors there on your site longer, so they have a greater propensity to trust your site and it also increases the likelihood of a buying decision.