Contract Manufacturing Manager at Google Inc.
"David worked with my company for several years……from start-up to acquisition. He was always accessible and always had very good input. David also designed our logo, marketing plan and helped with all the graphics, including booth design for shows that we participated in. I would highly recommend David."
Terry McManus, former COO, Athena Wireless Communications (Acquired by Google recently)
Innovator, Motivator, Award-Winning Speaker & Author
"When you're looking for someone to help you market your business, David Wright is your man. I've worked in advertising/marketing most of my career, but David knows the marketing nuances that really make a difference. He especially understands what it takes to create a successful online presence. In short, David will help you develop a strategy that will increase traffic to your business."
CEO, CareerOyster.com
"David Wright is an excellent online digital marketer. He understands the details of SEO, websites, and lead generation. I've worked with him for almost 5 years and he is always current with the leading algorithms, analytics and trends. He makes substantial increases in leads for companies and his work is characterized by competence and integrity. I recommend David for any online marketing project."
Communications and Marketing Consulting
"David is a talented marketing professional with expert knowledge in SEO and internet marketing. He is reliable, easy to work with and his services are reasonably priced within the marketplace."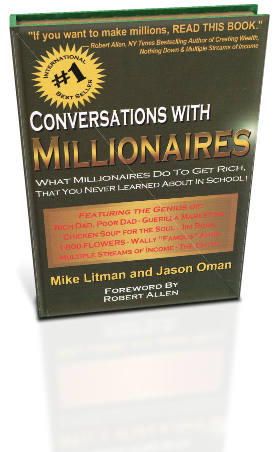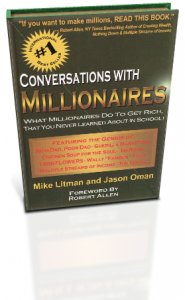 "David Wright is a Rock Star to the MAX when it comes to SEO and Online Video Marketing"
– Jason Oman, #1 Best-Selling Author, Conversations with Millionaires, www.JasonOman.com
Principal Attorney at MORIN Entertainment Law
"I hired David to help me bring my vision of my law practice to life online. I am incredibly busy, and David was able to communicate me about several details over the course of 2 months across 4 different mediums – phone, text, messenger, and email, while not dropping the ball. He was effective since he has a team on the other side of the planet able to pick up in the evening. He was polite, and the utmost professional. He was thorough, acting like the web expert I need to install certain plugins I require to protect my online data. Finally, David was very polite and always acted as the utmost professional. I highly recommend David for your website development needs. I am very satisfied with the result."
Defense Industry Support Services | Health IT Business Consultant | Internet Marketing Consultant
"I've known David for many years and we've worked together on a number of projects. He's an excellent person/company to work with as he is incredibly knowledgeable in all subject areas of Internet marketing, well connected and highly respected in the industry, and thoroughly understands both the technical and the marketing sides to building an effective website presence."
"I am NOT easily pleased. I must tell you that without a doubt, I HIGHLY recommend

David. We are actively seeing new patients directly attributed to David's work."
– Dr. Mel Colon, International Medical Clinics
Tamara, owner of Fit Fusion in Atlanta, GA shares what she thought of a marketing strategy session with W3 Group Marketing.

"We are sooo happy we are coming up on the first page on many searches!!"
– Melina Wilkinson, Oneida Builders, Dunwoody, GA
"I would certainly recommend David for companies looking to improve their business."
– Jeremy Beck, ex-CIO, Mass Mutual Japan, K.K.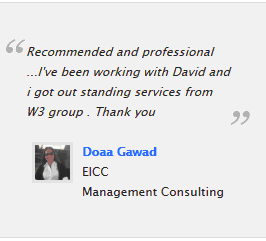 "Dave is the ultimate consultant, extremely creative and very passionate! His ideas have brought me great results! I highly recommend him."
– Mariana Ciaburri, CEO, WIN, LLC
"If you value smarts, sales and marketing expertise, and a wealth of knowledge in the latest technology and related SEO space… then David is your man."
– Donna Lang, Success Coach, Smart Tools Coaching, www.SmartToolsCoaching.com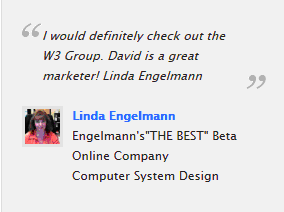 "I hired him several times and it was worth way more than what I paid!"
– Brandon Alexander, "The Social NetworkKING™ "