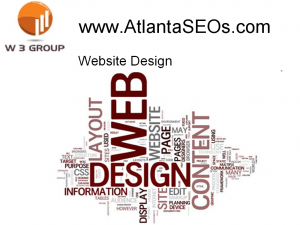 Yes, we build websites. But not just websites – we build websites that get found, attract visitors and help convert those visitors into clients.
That's one of the key things that sets us apart from so many website design firms – lots of them have great eyes for design, and many web designers do come from a graphic design background – which is actually more of a technology and art background than a marketing background.
All the websites we do are designed with SEO and conversion in mind.   If you can't get found online, no matter how pretty your site is it doesn't matter.
If your website doesn't convert, it doesn't matter either. The purpose of most websites for businesses is to increase sales. Without implementing tactics and strategies to make it as easy as possible to make the buying decision, and take the buying action, the site fails on its purpose.
The bottom line is that just about any high school kid can build a site these days using some of those free website builders (wix, etc.),  or lots of other methods. And some of them look amazing from a design perspective. But if you don't understand the role SEO plays, you've got to have some other way to drive traffic to the site or no one will see it and you will have wasted your money.   If you don't understand copy and conversion, and the psychology of why your customers buy, you're not going to grow your sales as effectively.
But W3 Group Marketing is first and foremost a Marketing company.  Our business is to help your business get more business.
We understand that of course your site has to look good – it has to portray your company in the best light.  But even more importantly, it has to attract customers to your business.  After all, you are in business to make money, right? Well if no one can find your website, that limits its effectiveness as a marketing tool.  You might as well have a beautiful billboard somewhere in the remote stretches of Antarctica where no one can see it but the penguins… and sadly, penguins don't have money so they're not going to be your clients.
While we can design from the ground up in a multitude of languages, we primarily use WordPress for website design. It's a powerful tool, and while it was designed as a blog platform it does have numerous advantages for use as the foundation for your website.

1) It's highly customizable, with many plugins, widgets and other groovy words for ways to easily add useful functions.
2) Because it's a blog platform, sites on WordPress tend to get crawled & indexed more often by the search engines because blogs tend to be updated more frequently.  The search engines love fresh, unique, quality content so give them what they (and your prospective clients) are looking for – that way, everybody wins.
3) It's easy to maintain, update, and make minor changes – some clients, once we got their site built for them, hit the ground running and maintain their own site because the basics are pretty easy – if you can use Microsoft Word, you can probably figure out how to use WordPress. That said, there are some advanced SEO-related tactics that can be more complex, but in general it's a lot easier than having to learn HTML, CSS, Java, Flash, and so many other things.
As of this writing (June 2012), WordPress powers 16.6 percent of the web, from The New York Times to People Magazine, and attracts more than 600 million unique visitors each month.