Thanks so much for ordering our new book, Conversations with Experts!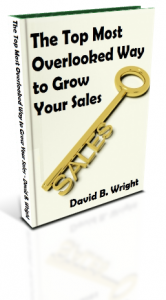 To say "Thank YOU!" for supporting us in this special launch campaign, we're happy to give you a bonus special report: The Top Most Overlooked Way to Grow Your Sales.
To get your bonus from David B. Wright and W3 Group Marketing, just fill out the brief from below.  Once you click the button, check your email inbox (and don't forget to check your spam folder in case you don't see it!).
You'll get a link to confirm your download request, so click that and you'll be taken to a page where you'll be able to download your bonus.
Since we love to over-deliver, we'll also send you tips from time to time that you can use to grow your business, attract more prospects, clients, and grow your sales.
And just so you know, your information will NOT be shared with others – you're more than just another email in our database.  So we won't rent, sell, give away or otherwise reveal your contact information with anyone.  Scout's honor.