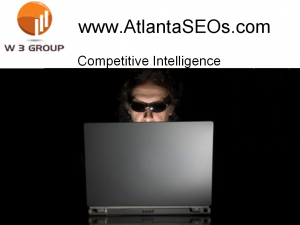 Competitive Intelligence is gaining importance in these competitive times. To succeed in business, it is important to know your competition.
Sun Tzu (500 B.C.) wrote this in The Art of War: "If you are ignorant of both your enemy and yourself, then you are a fool and certain to be defeated in battle."  This applies to business in the modern age as well – today it might be said; "If you are ignorant of both your competition and your business, you will certainly not succeed in the marketplace."
We can do detailed research on what your competition is doing to market their businesses so that you can know more about them than they know about themselves.
Where are their website visitors coming from?
What terms are driving traffic to their sites?
How are they marketing their business?
How effective are those efforts?
We use a variety of tools and resources to determine what's working for them and can identify what can work for your business too. We can even use heat maps and confetti maps to determine the "sweet spots" on your site and your competitors' sites.
So know yourself, know your competitors, and prosper in the marketplace.  Call us today.