Facebook Advertising Infographic
Here's a useful (and actionable) infographic covering three ways to drive local traffic fast by using Facebook advertising.  If your prospects are on Facebook, this is one way to bring them to your website and help them become clients, customers or patients.

First, as long as you're here, please like and share this post and feel free to share the infographic via LinkedIn, Facebook, Pinterest, Instagram, Slideshare, twitter, G+ and wherever else you care to do so.  🙂
The three main ways to achieve fast marketing results with Facebook  advertising are via using local awareness on Facebook, using Facebook Offers and Boosted Posts.
3 WAYS TO DRIVE LOCAL TRAFFIC FAST WITH FACEBOOK
The results of Facebook advertising can happen very quickly.  Google AdWords can start displaying within 15 minutes or so of the campaign going live, and Facebook isn't too far behind that.  It's not unusual to see sales start to get a measurable, significant boost after 24 hours of running an ad. As a small to midsized business owner, you can definitely use Facebook advertising to your advantage. Here's how:
USING LOCAL AWARENESS ON FACEBOOK
Local awareness is a type of ad that is run specifically on Facebook. It is designed to help local businesses bring in customers. It works by targeting people in your local area within a certain radius, which you determine and set when you create your Facebook local awareness ad.
Our new local awareness objective is the best way to reach people when they're near your business, whether that means walking distance or a few miles.

Ads can be created right from your page. All you need to do is set a budget, choose a photo and then create an engaging message for the people in your area. We do the rest.

Use it today to get more sales, new customers and great results.
These ads are specifically designed by Facebook advertising to be inexpensive and effective. So take advantage of them. Run one and gauge your results. You may wind up pleasantly surprised. Then test it against a similar ad, and see which brings in better results – you might change the headline, ad copy, or image and see which performs best.
USING FACEBOOK OFFERS
If your page is over 1 month old and you have at least 50 likes, you can use a Facebook offer to increase sales.  They're a cost-effective way to help you get the word out about your business in a way that encourages people to take action.  Just seeing a post is one thing, but to claim and redeem an offer that's a discount, coupon, or buy-one-get-one free of something means you're doing business – making a sale, even if it is discounted a little.  Or you might have a free giveaway like the Free Clicks to Clients magazine that we give to business owners who want to learn how to market their businesses.  Some of those we'll end up helping immediately, some later on down the road, some may never fit our ideal client profile but this way we can still help them even if they don't become clients.
OFFERS ARE SIMPLE TO CREATE.
You just enter your offer, the expiration date and the claims limit, then submit it. Once someone claims your offer, they will be sent an email from Facebook about how to redeem the offer at your business.
BOOST A POST
As a small business owner, Facebook page boosts are perfect for you and are one of the easiest forms of Facebook advertising. If you've got a massive audience (over 2000 fans according to the infographic) then it may not be ideal. But then again, if you use it the way we show you how, it may be good for any business size.  Facebook gives the following on how to boost a post:
Boosting posts is an effective and inexpensive way to get more exposure for your content. It's a simple and easy process – posts are boosted right from your Facebook Page – and you can boost a post for any amount you want.

It's a great way to get more people to see your posts, promote special events, offers and news, and to reach new audiences through targeting.

To boost posts on your Page:

Go to a post you've created and then click Boost Post in the lower-right corner.

Choose your audience and budget based on how many people you want to reach and how long you'd like your boost to run. You can also change your payment method.

Click Boost Post.
So here's what it looks like, in this case for a video I shared on the W3 Group Marketing company page on Facebook: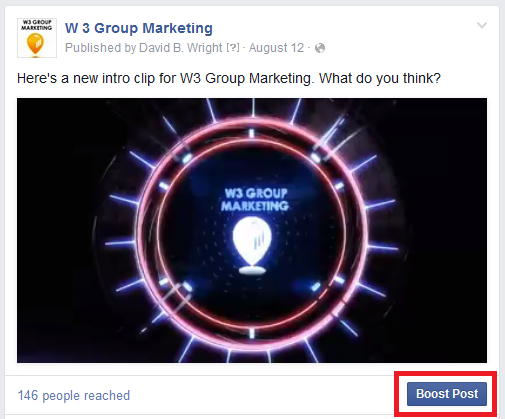 Try Boosting Your Posts Again
Facebook says "We've improved the accuracy of the way we measure our 20% text policy. This means posts you've tried to boost in the past may now meet our Ad Guidelines." – And yes, that's good news!  The old way they calculated the 20% text policy was way off and resulted in my having to go back again and again to edit images so they lined up with the Facebook ad grid in a way that the ad was approved.  This was quite the pain in the butt sometimes, particularly when I was on a deadline and didn't have much time… but Facebook assures us that it's much better now.  So go ahead, try it… test it out with a couple of posts that have a clear call to action and are more likely to convert in the way you want.   You probably don't want to boost a post where you're just sharing something from an article you found elsewhere online, but if you've got a good post with clear, compelling info about your company and that offers the reader a reason to take action, make the most of that post by boosting it.
A boosted post is extremely inexpensive. It can cost as little as $20 or less – one recent time I boosted a post, I only paid a little over $5.00. You can potentially reach hundreds or thousands of people with that money.
Facebook is a great advertising platform. Now small and local businesses, and individual branches of multi-location businesses, have the chance to increase their audience with just a small budget. Make sure you implement at least one of these this week. Once you see your first few sales, you'll want to make Facebook advertising a regular part of your marketing strategy.
Naturally you'll want to track your ad spend and determine the cost of acquiring a new client – and yes, you should be doing this already!  If you're not, start now.  What gets measured gets managed.
And you'll want to make sure that you're running "good" ads – ads that resonate with your ideal target client and, most importantly, bring them into your sales funnel and convert into sales.  After all, unless you're a big Fortune 500 company or the like, you'll want your marketing budget to directly help generate sales.  Branding is great, and a lot of consultants specialize in branding for all sizes of businesses, but the primary goal is to add revenue to the business.
One of the best things about Facebook advertising from an marketing and targeting perspective is that because Facebook has so much data on Facebook users, you can get really, really specific in targeting exactly who sees your ads (and not waste money on who shouldn't see them).
Of course if you need help managing it for you because you don't have time or don't care to take the time to learn about all the ins and outs to maximize your Facebook advertising ROI, contact us today to see if you qualify to work with us.  We specialize in helping growth-oriented companies with annual revenues of around the $1 million to $25 million range, ideally with a high average sale price and a high customer lifetime value.  Roughly two-thirds of our clients are B2C businesses and about one third are B2B businesses.  But those parameters have a little wiggle room – so don't be shy! Reach out to us today at 404-669-6682.