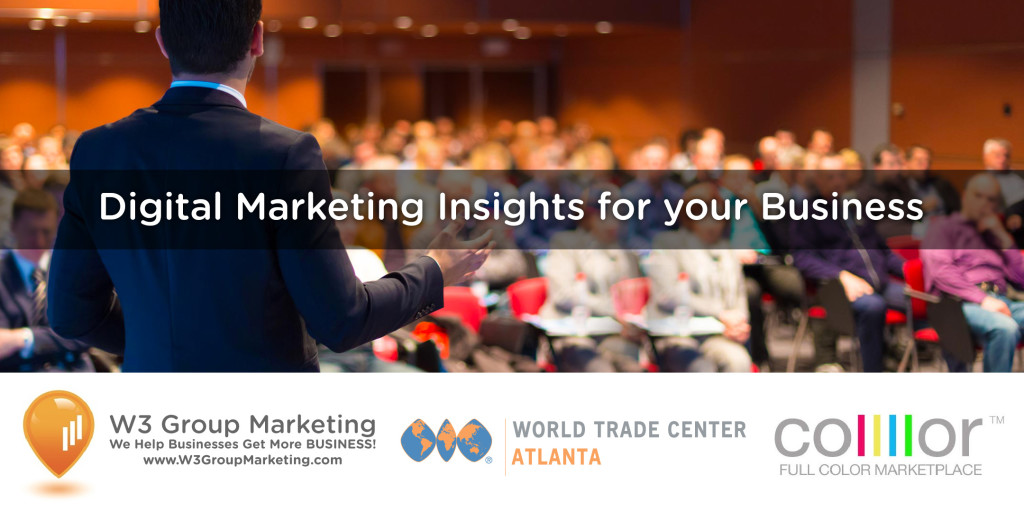 It's this week! Thursday, Feb. 18th from 12:00-1:45 pm is the first of a series of digital marketing workshops I'm leading in conjunction with the World Trade Center Atlanta and sponsored by Collllor. Open to the public, $30 for WTC members and $45 for non members. I promise it's worth every penny and then a LOT more if you implement just one tactic I share in your business. Just click on the link below. The City Club of Buckhead needs a rough headcount so they can plan for the right number of meals. I look forward to seeing you there!
To register, go here now: https://www.eventbrite.com/e/wtc-marketing-workshop-1-of-6-digital-marketing-insights-for-your-business-tickets-21103381783
WTC Atlanta International Business Series: Digital Marketing Workshops
Presented by David B. Wright of W3 Group Marketing
Sponsored by Collllor
World Trade Center Atlanta Members & guests will learn how online marketing works, how to attract more prospects via digital marketing, strategies on ways to turn your website visitors into customers and how to use social media effectively.
For our first digital marketing workshop, this month we'll cover a range of effective digital marketing strategies and how they work together to help you attract more targeted prospects for your business. We'll discuss the importance of getting found on the search engines via SEO (Search Engine Optimization), using paid ads (Pay-Per-Click or PPC), local search strategies, video marketing and video SEO, social media marketing, and strategies for mobile marketing.   You'll learn which pieces of the marketing mix make the most sense for your organization and the basics of how they can work together to deliver a greater ROI than using individual marketing tactics separately.
For future digital marketing workshops, we'll delve deeper into specifics for each of the major strategies mentioned above.
Who will benefit from this Digital Marketing Workshop Series?
Strategic growth oriented small/medium size companies
Marketing Directors, Managers and Associates
C-Level Executives
Startup Phase Entrepreneurs
Your competitors (if you're not there!)
$30 for WTC Atlanta members, $45 for guests. Price includes lunch buffet, certificate, tax, gratuity and parking.
David B. Wright is an international speaker, has lived in Tokyo, Japan, conducted business around the world and has been quoted in numerous publications including Inc., The Wall Street Journal, CNN, Bloomberg BusinessWeek, AMEX Open Forum, About.com, CEO.com, and Business Insider. Mr. Wright is also a bestselling author and is President and Chief Marketing Officer of W3 Group Marketing, a marketing firm that helps growth-oriented businesses get more customers, clients or patients.
David has an extensive international background record including living and working in Tokyo, Japan, and doing business with companies around the world including Fiji, Italy, South Africa, the UK, Malaysia, Taiwan, China, Egypt, Australia and others. David's broad expertise began from working in the shipping industry in Tokyo, Japan. He has also helped companies in Fiji, Egypt, Australia and more attract more customers & clients.
Collllor is a commercial printing marketplace that provides a full range of printing services and products to meet all of your printing needs. Please visit us online at www.collllor.com.
When Thursday, February 18, 2016 from 12:00 PM to 1:45 PM (EST) – Add to Calendar Where City Club of Buckhead – 3343 Peachtree Road. #1850. Atlanta, GA 30326 – View Map